Auto Glass: Should I Repair or Replace My Windshield?
Whether it's better to repair your windshield, or replace it, that is the question. And here's how you determine the answer:
First, a word about the difference. When it comes to auto glass, most people will say they need to get their windshield "repaired." In reality, we need to get our auto glass fixed. There are two different ways to do so.
One is an actual replacement; that is, the broken glass in your vehicle is removed and replaced with new glass. This is called an auto glass replacement. The other method involves correcting the glass that has been damaged. This works very effectively on windshields with small chips or breaks. In certain cases, the windshield can be "repaired." Both auto glass repair and auto glass replacement have their own advantages and disadvantages. Let's take a look at the process involved in each.
Auto Glass Replacement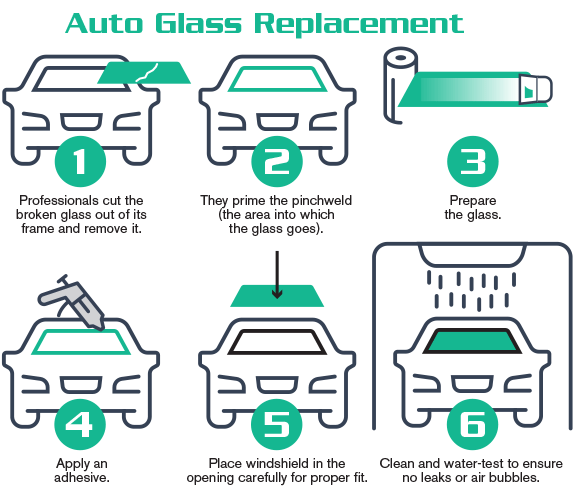 In an auto glass replacement, the technician will cut the broken glass out of its frame and remove it. They will then prepare the opening for a new piece of glass. In the case of a windshield replacement, he or she does so by priming the pinchweld (the area into which the glass goes) and checking it for corrosion or other damage to the vehicle.
Occasionally, a windshield may have been replaced improperly in the past, resulting in damage from water, which can cause corrosion or rust. The technician will check for this as well, as they cannot replace the windshield with corrosion issues. They must be corrected before replacement occurs.
Once the technician has completed his preparation of the pinchweld, they will prepare the glass. In the case of the windshield, they will apply an adhesive (known as urethane) to the glass. The technician will take care to do so properly, and not to contaminate any surface on either the windshield or the pinchweld. They will place the windshield in the opening carefully, achieving a proper fit. Before they finish, the technician will clean and water-test the job to ensure there are no leaks or air bubbles, and will double check that any systems he had to work with, such as heads-up displays or automated drive assist systems, are back in good working order.
Your vehicle will need to remain stationary until the adhesive cures. Each urethane requires a unique minimum amount of time before it cures. The amount of time necessary is based on the type of urethane used, and the surrounding temperature and atmospheric conditions. The quality Affiliate companies at Glass.com will tell you how long your vehicle must remain stationary to achieve a minimum drive-away time. Many Glass.com Affiliates use a quick-cure urethane that can require as little as one hour before the car can be driven.
Broken glass replacement is a simple process, and generally takes less than two hours to complete, depending on the car's make, model and condition. After the installation, the vehicle must remain parked until the minimum safe drive-away time is reached.
Your windshield should be replaced in accordance with the Automotive Glass Replacement Safety Standard, ANSI/AGSC/AGRSS 003-2015, developed by the Auto Glass Safety Council. Glass.com Affiliates who are registered members of the Auto Glass Safety Council undergo periodic and random audits to ensure they are performing installations correctly. You can recognize them by the badge next to their company name: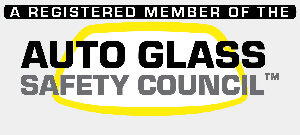 Auto Glass Repair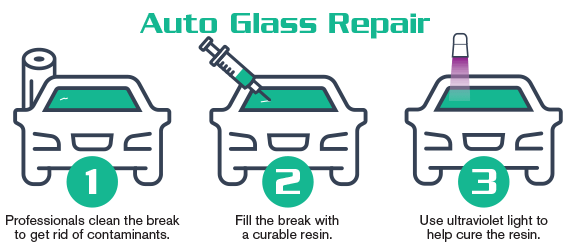 Auto glass repair, also known as rock chip repair or chip repair, is a process that "fixes" your existing vehicle glass. Most windshields and some side windows can be repaired.
To repair a chip in a broken windshield, a technician will first clean the break to rid it of contaminants, water and dirt. Whether or not the repair will be successful is highly dependent on how much of that material is in the break. The faster you can have a chip repair done, the more likely it will be successful, because there will be less time for the break to be filled with contaminants, water or dirt.
Once the break has been cleaned up, the technician will fill it with a curable resin. Then, they will use ultraviolet light or another method to help cure the resin. Most windshield repairs are so successful that it is difficult to notice them; some are not. There will always be a minimum degree of diffraction that is sometimes barely perceptible and other times not acceptable. Your repair technician can review your options before the work is undertaken.
When a Windshield Can't Be Repaired
Windshield repair should not be attempted in certain areas of the windshield, or if certain conditions exist. For example, if the damage falls in the driver's primary field of vision, it is generally not a candidate for repair. The ROLAGS Standard permits repair of cracks up to 14 inches long, but some auto glass repair companies limit it further.
The National Windshield Repair Association publishes the Repair of Laminated Auto Glass Standard, known as ANSI/NWRA/ROLAGS 001-2014. This Standard clearly sets out what can and cannot be repaired.
Whether the glass in your vehicle should be repaired or replaced is often difficult to discern. The quality auto glass service providers at Glass.com are schooled in knowing which method to undertake. Visit them today.