Windshield Replacement
Windshield damage is neither expected nor welcome, but it's always something you have to handle. Whether your windshield has a chip in it, a scratch, or a long crack, you'll first want to find out (if you can) why your windshield broke and how you can get it fixed near you.
Generally, there are three main causes of auto glass damage:
It's been hit by a rock, road material, or other foreign object;
It's been subjected to damaging weather, or;
It's been damaged in the commission of a crime or break-in.
Whatever the reason, a broken windshield generally requires either repair to fix a windshield crack or chip, or the replacement of the entire windshield. Sometimes it's easy to figure out if your windshield can be repaired or if it needs to be replaced. (Other times, it's harder, but we can help. Check out "Auto Glass: Repair, Replace?" for additional information.)
Repair or Replace Your Windshield?
First, let's talk about what the terms "windshield repair" and "windshield replacement" mean. Most of us say that we need to get our windshield repaired, but what we really mean is that we need to get the damage removed from our windshield. You can accomplish this in one of two ways.
A windshield repair is a process through which the windshield already in your car remains in your car and the damage is corrected. A windshield replacement requires the removal of the damaged windshield and its replacement with a new windshield.
A whole windshield replacement will correct any damage - because you are removing the whole windshield and getting a new one. A windshield repair can correct many different types of damage, but there are some situations in which a windshield repair will not be successful or should not be done.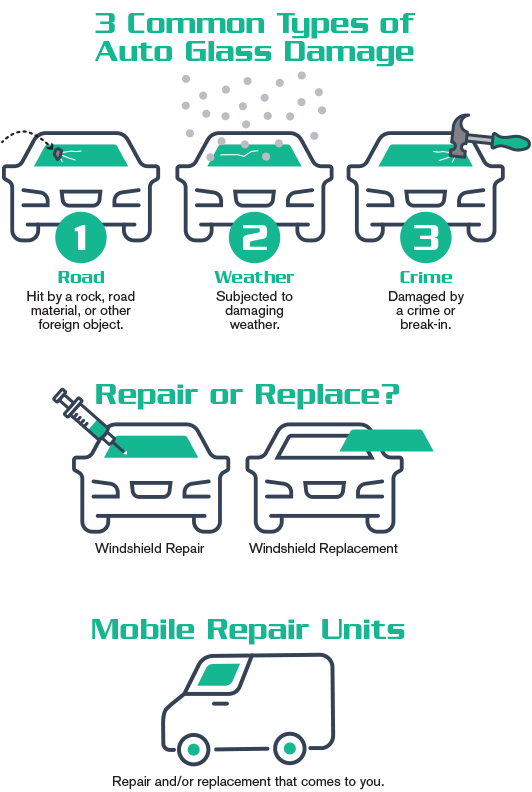 Pros and Cons of Windshield Repair vs. Windshield Replacement
Let's take a look at the advantages and disadvantages of both windshield repair and windshield replacement. A windshield repair is generally a less expensive, quicker process than a windshield replacement. It does not require the removal or replacement of your windshield, so in that way it is a bit "greener" than a replacement.
Windshield Repair Pros and Cons
Windshield repair does have some disadvantages, though. Although the clarity of most repaired breaks is excellent, it is never exactly the same as a new windshield. You may still experience some minor distortion with a windshield repair. The quality technicians who work for Glass.com Affiliates will explain the differences to you upon arrival. And you will want to check your insurance coverage for windshield repair.
Some insurers, such as State Farm insurance, do not cover windshield repair. Other insurers waive your deductible if you repair, rather than replace, your windshield. So it's very important that you know the type of coverage you have before you begin the repair or replacement process.
Windshield Replacement Pros and Cons
Windshield glass replacement avoids any of the clarity issues that you could have with a windshield repair. It is more expensive than repair, and requires the vehicle to remain stationary until the adhesive used (called urethane) has cured. Depending on the adhesive used in the installation, that cure time can be anywhere between one hour to a day or more. Most Glass.com Affiliates use quick-cure urethane adhesives, which keeps your cure time to a minimum.
Almost every insurer covers vehicle window replacement, though your deductible will vary by the type of plan you have. All insurance policies permit you to choose your auto glass service provider, and there are laws in some states that do not allow an insurance company to pressure or "steer" you to a particular auto glass service provider.
Mobile Windshield Repair and Replacement Options
Both windshield repair and windshield replacement can be done in an auto glass shop or by mobile units that come to you. Neither repair nor replacement should be done outside in inclement weather. If outdoor conditions include precipitation, the work should be done in the shop and not by a mobile van. Extremes of temperature and humidity also can affect the ability of urethane to cure. Therefore, in extremes of weather, work will need to be done in a shop as opposed to a mobile van or truck.
Glass.com Affiliates continuously assess weather and other conditions that can affect the success of your windshield repair or replacement. They monitor temperature and humidity conditions to make sure the materials they use will be able to perform properly. Your auto glass installer will inform you if an installation or repair must be done in shop.
Almost all windshield chip repair technicians will come to you or suggest meeting to repair your windshield at a place near you. Windshield chip repair (also known as rock chip repair) usually can be completed outdoors in less than 60 minutes in good weather.
Special Circumstances
Except in cases of inclement weather, most car windshield replacements can take place near you - outside of your business or home. There are some vehicles, however, that require that the work be done in shop because of the size of the windshield, the complexity of the job or other reasons. Your Glass.com affiliate provider will let you know if that is necessary.