Shower Enclosure Styles
Glass shower enclosures come in a number of different styles. When it comes to remodeling your bathroom, choosing a style should be your first step in the design process. Perhaps you want to stick with the same style of shower enclosure that you currently have, or maybe to you want to upgrade the look to something new. We're here to help provide info about what shower enclosure styles are available so you can decide what's best for your home's bathroom.
Framed Shower Doors vs. Semi-Frameless Shower Doors vs. Frameless Shower Doors
Choosing what style of framing you want for your shower is the first step in choosing an enclosure. There are pros and cons to each of the styles listed above so we'll take an in-depth look at each and break down the differences for you.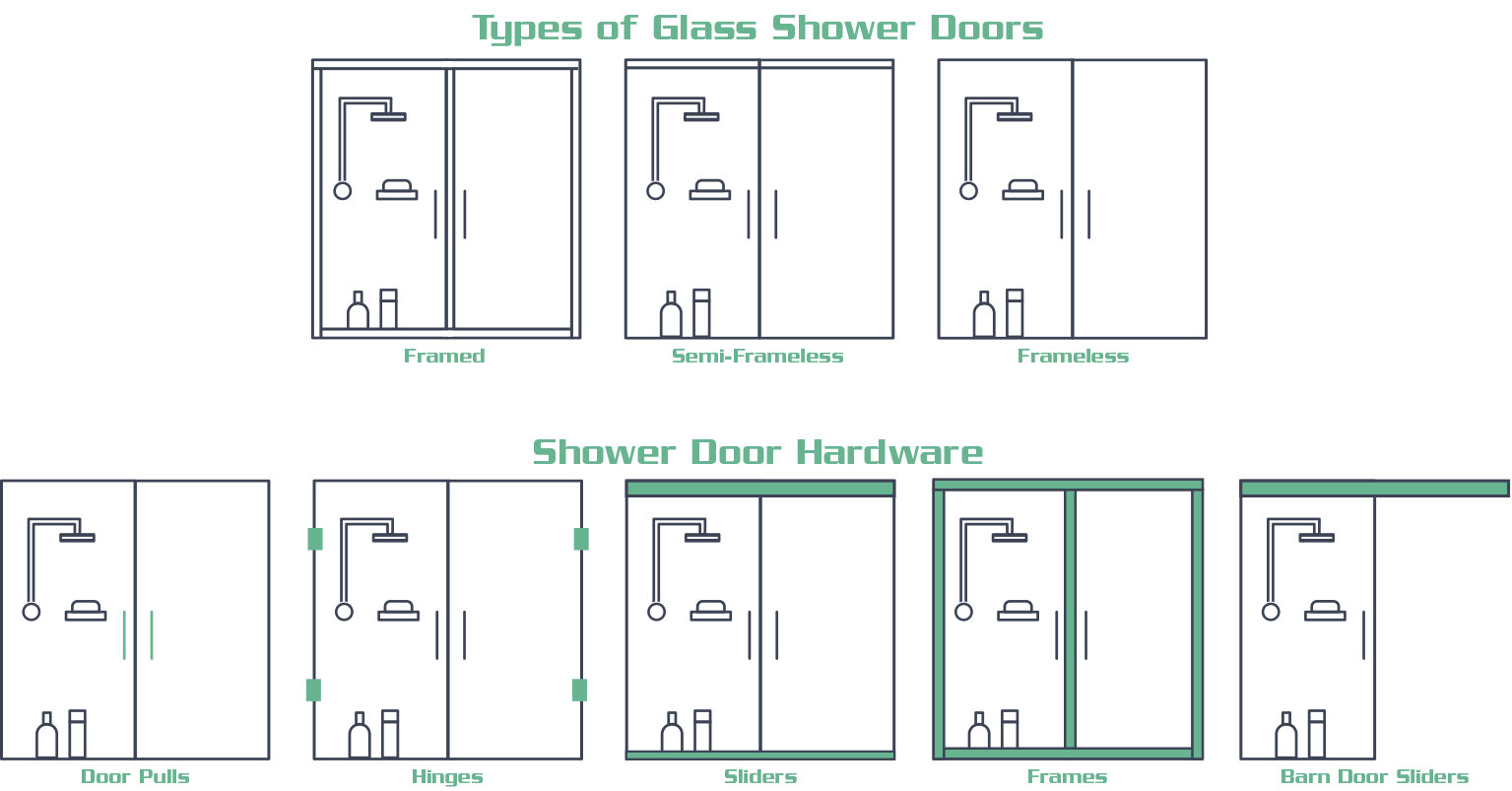 Framed Shower Doors
Framed shower doors are probably what you typically picture when you think about a shower enclosure. These enclosures feature metal framing the surrounds all four corners of all glass panels and secures the enclosure to the bathroom walls. The framing provides structural integrity, so the glass itself can be relatively thin. This means that the units relatively inexpensive. They have also come a long way aesthetically. Framing has become thinner and is typically available in a variety of finishes to suit any taste. The glass itself can generally be found in a variety of finishes too from frosted to clear and a number of options in between.
Semi-Frameless Shower Doors
Semi-frameless shower doors are a halfway point between framed shower doors and frameless shower doors. Typically, semi-frameless shower doors will feature framing on one or more glass panels. This could mean that some panels will be framed in place while the door remains frameless. Or it could mean that all panels are framed along the top and bottom, but do not have framing in between. There are many variations of this with nearly endless possibilities of combinations.
Semi-frameless shower doors are more aesthetically appealing than framed shower doors because sight lines are minimized due to reduced amounts of framing. This could be a good option for those who want an updated look in their bathroom but don't care for the contemporary look of a fully frameless shower enclosure.
Frameless Shower Doors
Frameless shower doors are trending in today's interior design world. These sleek looking shower enclosures minimize sight lines due to not having any framing. Framing is instead replaced by individual pieces of hardware. The hardware is used to anchor the glass to walls, join separate pieces of glass, and allow the shower door to operate. The hardware is very visible and exposed which makes it an aesthetic element of the shower enclosure.
Without framing, the shower door glass must comprise much of the enclosure's structural integrity. This means that the glass is often much thicker and heavier than the glass used in framed or semi-frameless shower doors. Frameless shower doors can also require more skill to install than framed systems. Therefore, the cost of frameless shower door systems is, on average, a bit higher than the other types of shower door enclosures.
Glass Shower Enclosure Design
After you've decided about a framed, semi-frameless and frameless style glass shower door enclosure, the next step is to decide on the design. If you're replacing an existing unit, are you going to stick with something similar to what currently exists? If so, you'll want to choose an enclosure that matches the shape and measurements. If you plan to remodel your bathroom with something different, there are a nearly limitless number of shapes and design options to choose from. From square, to rectangular, angular, or even round, the shape of a glass shower enclosure can be built to suit your bathroom. Walls can be utilized to limit the amount of glass that needs to be used. Or, for a luxurious and chic look, you could even have a free-standing enclosure that uses glass on all sides. The sky is the limit.
Once you have a style and design in mind, it's time to move on to shower door hardware.
Trust Glass.com for All Your Shower Glass Repair and Replacement Needs
When you're ready for new shower glass, trust the professionals at Glass.com to help you find a local shower glass professional in your area.
To ensure you receive the best quality shower glass that fits your needs and budget, we offer free online quotes from nearby dealers in your community. Once you've found a shower glass specialist that meets your expectations, you can then schedule a secure, no obligation quote to quickly and reliably begin your shower glass repair or replacement needs.
To learn more about the services provided at Glass.com, feel free to call us today at 888-854-5277 to speak to a specialist or complete our online contact form.