Sliding Patio Doors
Patio doors are the perfect way to open your home to the outdoors and create a blend of an indoor and outdoor living space. You can either install sliding patio doors from scratch where there was not previously an existing opening, or you can update and replace your existing sliding patio doors to a more functional and beautiful patio door design.
These doors are a prime candidate for updates because they cover such a large surface area, and over time they'll need replacement simply because these doors often take a beating from the elements and can need replacing simply from wear and tear. If your current patio door does not insulate well, energy loss can be drastic. Updating your entry to one with modern materials and construction can significantly improve energy efficiency, saving on monthly costs.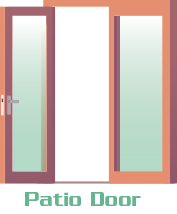 Sliding patio doors have come a long way and are no longer heavy, clunky, and hard to open or close. Many are available in a variety of materials — including wood, vinyl and fiberglass — to fit your home's architecture and daily needs. If you want a more elegant decor statement, consider replacing your current sliding patio door with a French-style patio door.
Some modern patio doors can be even be operated effortlessly with a single finger, and stubbing a toe on the frame of a sliding door can be a thing of the past too because of today's flush-mount track systems.
Patio Door Glass Replacement: Update the Look and Efficiency of Your Home
If your sliding patio door frame is attractive and still in quality condition, consider patio door glass replacement to modernize the design and add efficiency. There are several attractive and functional glass insert replacements to consider, including:
Decorative or tinted glass with matching side window panes
Heavy-duty hurricane-rated or all-weather glass that exceeds regulations and adds home protection
Energy efficient panes that reduce the escape of precious warm or cool air
Tempered glass that's stronger than annealed glass and meant to withstand heavy daily usage or improve home security
Low-emissivity (Low-E) windows designed to reduce uncomfortable glares and filter out harmful UV rays
For a cohesive look, ask your patio door expert about having matching windows or upgraded doorlites installed.
An Alternative to a Typical Sliding Patio Door
Want your home to stand out? Modern technology in the building industry has led to the development of folding glass walls. These movable glass wall systems provide similar benefits as patio doors but can span large openings, such as the entire side of a house. Instead of one mobile and one immobile panel, these systems consist of multiple moving panels that fold and stack together.
Find Trustworthy and Dependable Local Patio Door Replacement Professionals, Courtesy of Glass.com
Use Glass.com to easily request free project quotes from local window dealers in your area today! At Glass.com, we'll connect you with trusted, dependable and knowledgeable professionals in your area, for a fast, hassle-free experience.
Once you find a patio door replacement professional, you can then use our platform to schedule a secure, no-obligation appointment. To learn more about the services provided by Glass.com, feel free to call us at 888-854-5277 or fill out our online contact form with any questions you may have. Or, browse our site to explore your patio door and glass replacement options today.