Entry Doors
Entry doors can make or break your home's curb appeal, so updating this part of your house may drastically improve its appearance. There are many options to consider when picking out a new door, so working with a reputable door dealer will make the process much easier. Many dealers have showrooms where you can view different door types, hardware, and options in person.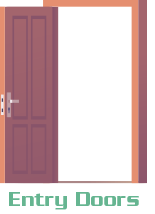 Top 3 Things to Consider When Choosing a New Door
Before choosing an entry door for your home, consider the following three factors:
Door Type: First, consider the size. Is your front door going to be the standard width with a single hinge point? Or will you opt for a wide, French-style door that adds impressive design to your home? Then, think about the different styles available — from mostly glass to completely solid doors, there are variants in between to suit and taste.
Door Options:Start with the finish in mind — will your door be wood, vinyl, fiberglass, or aluminum? Each frame material has different benefits which should be considered when making this choice. And each can generally be had in just about any color to fit the rest of your home's palette. Next, you will want to consider the area surrounding the door. Adding sidelites, the narrow vertical windows on either side of a door, is a beautiful decorative element and can let you keep an eye on who's outside. While awning windows, those short horizontal windows that run above doors, can let in additional natural light as well and compliment sidelites to tie everything together.
Door Hardware:From bronze and nickel to gold, stainless, and others, door hardware comes in many finishes to match the other finishes around your home. You should also consider security at this point and choose a handle suitable for your area and comfort level. Your local door dealer should be able to demonstrate the difference between knob locks, deadbolts, and others. Many options today are even electronic which can be operated remotely using smartphones. Some also have built-in cameras which allow you to see who's at the front door!
Door Frame Material
Depending on your style, budget and your home's architecture, there's a wide variety of entry doors available. These doors are designed to improve your home's functionality, enhance the overall aesthetic and create a welcoming appearance for visitors. Stunning and eye-catching entry door replacements are often available in the following materials:
Wood: Wood frames insulate well but keep in mind climate as this material expands and contracts in extreme temperature. It also has higher maintenance than some other materials.
Aluminum: Aluminum frames conduct heat rapidly so it typically falls to the bottom of the list when comparing energy efficient window frames but they can be a cost-effective option and again climate plays a significant role.
Vinyl: Vinyl frames have hollow cavities that can be filled with insulation so they can be a good insulator, and require little maintenance. In extreme weather conditions, vinyl can discolor which would require painting, and cracking could be an issue as well depending on the weather.
Fiberglass: Fiberglass frames have air cavities that may be filled with insulation, so they offer high thermal performance. They are more expensive than some other window materials, for example, vinyl.
For Your Entry Door or Glass Insert Replacement Needs, Visit Glass.com
Keep your home looking pristine with an attractive new entry door replacement. Or, if you want to keep the style of your home's current front door, consider upgrading the look with a modern entry door glass insert replacement.
When you need a trusted and dependable professional to perform your home improvement needs, visit Glass.com for assistance in locating the expert that best matches your needs and budget. For all our door and glass replacement services, we offer free online quotes from businesses in your area.
Once you find a contractor you like, you can use our platform to schedule a hassle-free and secure booking. Learn more about Glass.com's services today by calling us at 888-854-5277 or complete our online form to make a request.