Auto Glass:

Mobile Service

In-shop Service
Phone Number:

Website:

Address:
Ultimate Auto Glass & Electronics is proud to offer the following services and warranty to our customers:
Mobile Auto Glass Repair & Replacement:
• Auto Glass Replacements- Windshields, Laminated & Tempered
• Sunroof & Panoramic Roof Glass
• R & I Specialist for Collision Industry
• Rock Chip Repairs- Glass Weld Certified Techs
• ADAS Windshield Recalibrations- Dynamic and Static
• Direct Insurance Claim Assistance & Billing
ADAS Calibration:
• OEM LDW/LKAS Camera Calibrations
• OEM ACC/FCW/ICC Laser & Radar Calibrations
• OEM BSM/BSI/Lane Change Assist Calibrations
• Honda LaneWatch Calibrations
• OEM Surround View Monitor/ 360° View Calibrations
• OEM Park Sensor/ICS Calibrations
• ADAS System Verification
• Vehicle Dynamics Initialization and Calibrations
Ultimate Auto Glass Warranty
Ultimate Auto Glass repair and installation is guaranteed against water, air leaks, defects in materials, and workmanship. This warranty in valid as long as you own your vehicle. If Rust is present at time of repair and installation, Ultimate Auto Glass cannot guarantee the installation.
Auto Glass Replacement
Ultimate Auto Glass replacements are warranted against defects in Glass, Materials, and Workmanship as long as you own your vehicle.
Ultimate Auto Glass' warranty is limited to original and warranty repairs being performed by an authorized Ultimate Auto Glass Technician. Ultimate is not liable for special, incidental, indirect, or consequential damages. This warranty/guarantee is non-transferable and exclusive in lieu of all other guarantees.
Windshield Chip Repair
If you are unsatisfied with the appearance of the windshield repair performed by Ultimate Auto Glass or the break continues beyond repair area Ultimate will credit the cost of the repair towards a replacement window. This credit will only be valid towards replacement of glass performed and supplied by Ultimate Auto Glass.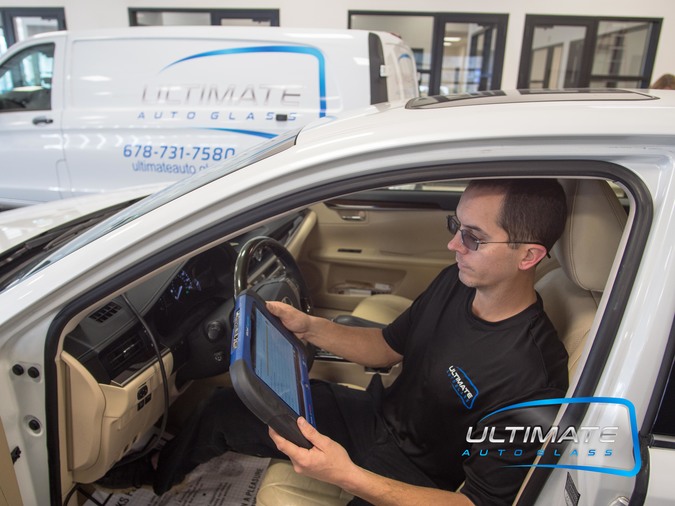 ---
---
---
Reviews
starstarstarstarstar
23 days ago by Frank E.
•••
starstarstarstarstar
6 months ago by Haily B.
once they finally had my glass the technician installed quickly abs effectively
•••
starstarstarstar_borderstar_border
9 months ago by Thomas C.
•••
starstarstarstarstar
1 month ago by Theresa M.
•••
starstarstarstarstar
2 years ago by Mark J P.
Good communication. Fast response. Thx
•••
starstar_borderstar_borderstar_borderstar_border
1 year ago by Kimberly P.
They never called me or followed up
•••
starstarstarstarstar
1 year ago by Princess M.
They were quick, efficient, kind, and very patient with me. My car was broken into the night before and they did everything in their power to get me up and running as quick as possible. Hector was incredible and I'm very lucky to have had his help.
•••
starstarstarstarstar_border
1 year ago by ROBERT H.
•••
starstarstarstarstar_border
1 year ago by CLARE S.
When the person arrived to change the glass they were fast, friendly, and competent. I have no complaints really, because I wasn't inconvenienced at all. But the communication from them was lacking, from the time we put in a request to the time it arrived we didn't hear from them. We had to call them to get information. Even then they didn't update us as to a date to do the repair. It took about 3 days. I understand they had to order the glass and that's fine, but then they arranged for it to be done at 8 am and it was done much later in the day. Since I work from home, as I said, it was no problem, but others might not be so lucky and miss out on a days work. A bit better communication is needed here.
•••
starstarstarstarstar
1 year ago by Brian A.
The only people in the country who were able to get my windows, and replace it within 2 days. I tried over 25 places including the manufacturer, with no luck. Then I emailed Buzz on a Sunday afternoon. Buzz is located in Georgia, and I'm in LA. According to his auto reply, he was on vacation, however he still took the time to contact me, find the part, arrange service, and have it installed at my work. The technician that came was clean, efficient, and knowledgeable about my vehicle. The glass was cleaned up, new window installed, provided an invoice in less than an hour. The cost was far less than I anticipated. The technician was late to the original time, but, with LA traffic, and the unforeseeable issues with earlier appointments, there is no real reason to complain. I am :100: percent satisfied with this company and would recommend them to any person in need of the service. The customer service they provide in a difficult time is worth every dollar.
•••
starstarstar_borderstar_borderstar_border
1 year ago by Alex L.
Your technician was very nice but arrived with the wrong glass. Wrong door and un-tinted :/
•••
starstar_borderstar_borderstar_borderstar_border
1 year ago by winson h.
wrong glass,terrible service,wrong price
•••