Double-Hung and Single-Hung Windows
Double-hung and single-hung windows are America's most popular window style because of their design options, flexibility and efficiency. This type of window has two separate top and bottom panels where the bottom panel can be slid upward to open the window. If the top panel is stationary and cannot be opened it is referred to as a single-hung window. If the top portion can be slid downward to open, however, then this is considered a double-hung window.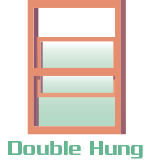 Benefits of Double-Hung Windows
Double-hung windows have several advantages over single-hung windows and are a popular choice for homeowners because of their efficiency, easy maintenance and adaptability. Compared to the single-hung window with one operating sash, most double-hung models have two sashes that can be opened on the top, bottom or both and unhinged from the frame and rotated inward for easy access. This design makes for an excellent addition to rooms that face decks or porches.
Aside from several opening and closing capabilities, double-hung windows feature the following benefits:
Versatility: Appealing because of their availability in a wide range of styles, sizes, colors and materials, homeowners can fully customize their double-hung windows with materials including aluminum, vinyl, fiberglass and wood.
Energy Efficiency: You can install double-hung windows with quadruple weatherstripping, which improves overall energy efficiency by limiting the amount of heated and cooled air to escape your home.
Low Maintenance: Because they can tilt inward, cleaning the glass is a much easier job.
While windows are constructed to last for many years with direct exposure to elements and normal wear and tear, your double-hung windows will need frame or glass insert replacement. Signs that it's time to purchase new double-hung replacement windows include milky glass, condensation or fog between panes and distorted or broken glass. If your glass is damaged, you could be losing up to 25 percent of your heating and cooling energy just through the windows alone.
Single-Hung Window Replacement
With single-hung windows, you have less functionality than double-hung styles, as they only open vertically in one direction. However, with modern improvements, single windows have benefits including:
Enhanced space-saving abilities
Improved security
Increased cost-effectiveness
Available in several colors, materials and shapes, including gothic, eyebrow, arch and custom options
Over time, with variable climates, exposure to moisture and direct sunlight, you will need to replace your single-hung windows. A new window replacement can last 20 years or longer, but it's time to invest in new windows when you notice oddities in the glass or structural issues like improperly working hardware or warped, cracked and damaged window frames.
To Find Quality Window and Door Replacement Professionals, Trust Glass.com
When it comes time to replace these windows, there are several options you'll want to consider such as insulation, frame material, color, and hardware. Use Glass.com to connect with professionals in your community who can work closely with you to find replacement windows for your home that fit your needs and budget. With us, you can also easily request free quotes from local window dealers in your area today and schedule a hassle-free, no-obligation appointment.
For assistance finding knowledgeable and reliable single and double-hung replacement window excerpts, trust Glass.com — call us today at 888-854-5277 or complete our online form.